Holly Howell  
Board Certified Pediatric Nurse Practitioner
Where did you attend college? 

Undergrad:

University of North Alabama
Graduate: University of Alabama at Birmingham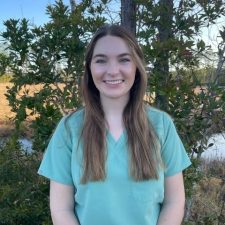 Why did you choose to work at Rainbow Pediatric Center? I learned about Rainbow when researching pediatric clinics in Jacksonville. The wide variety of services that Rainbow offers immediately stood out to me, particularly asthma and lactation education. Additionally, when interviewing, I noticed that Rainbow focused heavily on family-centered care, and I knew this is where I wanted to be.
What do you enjoy about working with kids? I like that I am able to watch children grow and meet milestones. I also like the variety of patients and cases I see in pediatrics. It makes each day new and exciting.
What is your area of expertise? I specialized in pediatric primary care. My background is in pediatrics and NICU. I enjoy seeing infants, and treating patients with acute illnesses.
What do you enjoy doing when you are not at Rainbow Pediatrics? I enjoy spending time with family and friends. We recently moved to the area, so I also like to explore Jacksonville.
If you only had 3 words to describe yourself what would they be? Loyal, nurturing, and hard-working.
What is your favorite children's book? Eloise.
Tell me about your family? I just got married at the end of last year! My husband and I just moved to Jacksonville. I have a large family in my hometown: Corinth, Mississippi. I try to see them as much as possible.
One interesting fact about yourself? Several years ago, I spent a month traveling around Australia.