Kristyn Miller Pye 
Board Certified Nurse Practitioner
Where did you attend college? 

Undergrad

 

:

  

Florida State University – Go Noles!
Graduate: Jacksonville University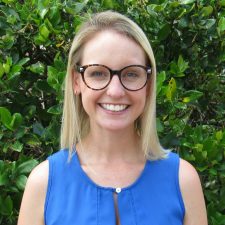 Why did you choose to work at Rainbow Pediatric Center? After working in the ER for 7 plus years, you become very familiar with local Primary Care Providers. I was so impressed at how well taken care of the patients from Rainbow Pediatrics were. The practice really does it's best to keep our families out of the ER and I love that!
What do you enjoy about working with kids? Working with kids is the best because no matter if you are having a good day or a bad day a smile or a laugh from your patients makes every day worth it!
What is your area of expertise? I graduated as a family ARNP but my passion was always taking care of kids Due to my background in the ER my strength is acute illnesses. I greatly enjoy education as well on developmental milestones and anticipatory guidance.
What do you enjoy doing when you are not at Rainbow Pediatrics? I love spending time with my family! I love doing anything outdoors, whether it's golfing or scuba diving.
If you only had 3 words to describe yourself what would they be? Adventurous, dedicated, and optimistic
What is your favorite children's book? The Polar Express, by Chris Van Allsburg.
Tell me about your family? I am married to a wonderful man who also shares a love of taking care of children with me. He works as an EMT at Wolfson Children's Hospital where we met. We have two adventurous boys.  I am fortunate to have my extended family here in Jacksonville as well.
One interesting fact about yourself? I have had over 100 stitches before I turned 12 years old.